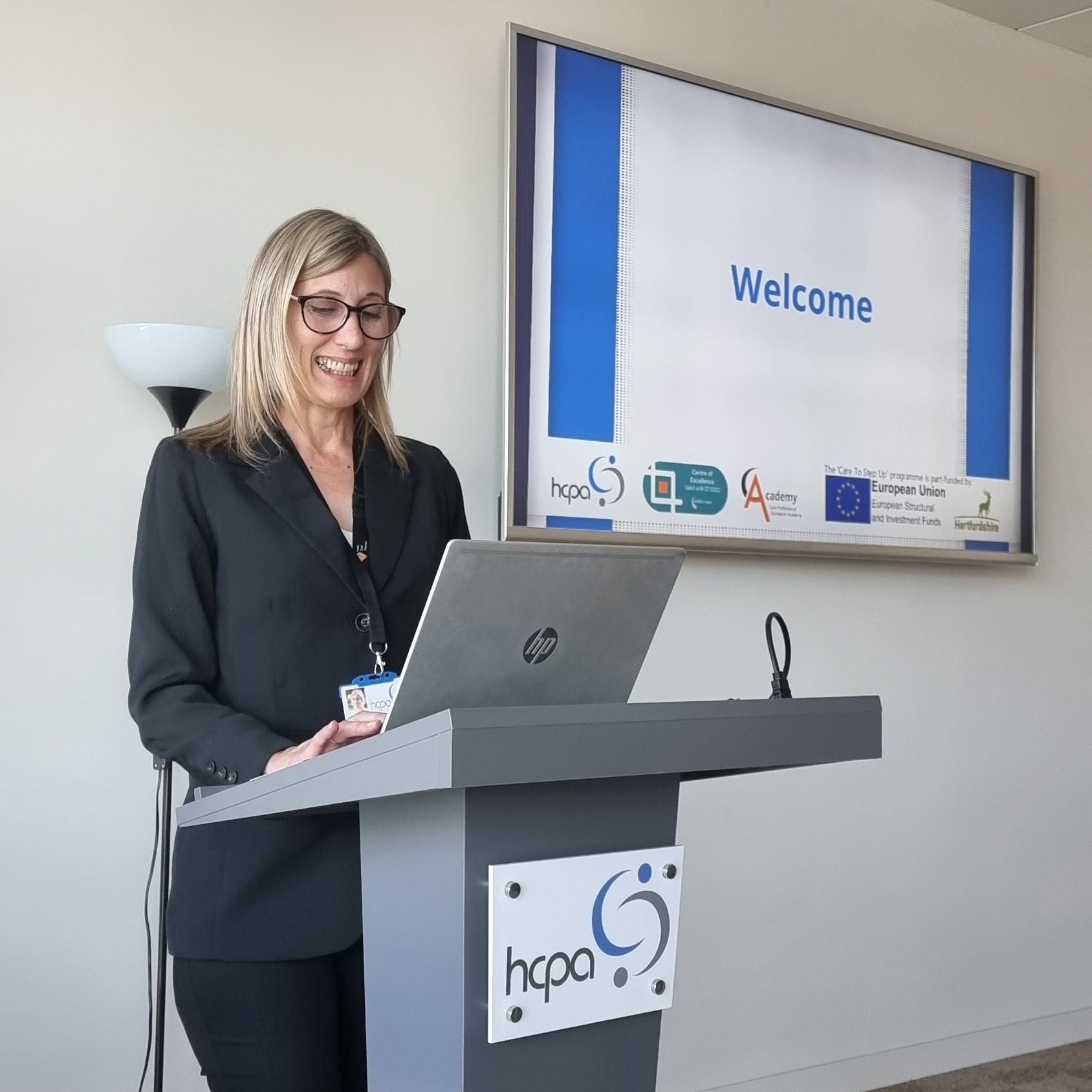 We caught up with with Nicky, a Senior Specialist Care Tutor at HCPA, to gain her insight into what working in the care sector is like and why training is so important.
When did you start your career in care?
My career in Health and Social Care began a mere 13 years ago, and I became a Care Support Worker with Crossroads Care North. After a couple of years, I went from working in the domiciliary field to caring in supported living with Hand in Hands, where I progressed to become a Team Leader. I accrued a huge skill set and now thoroughly enjoy working at HCPA, where I am just into my 8th year, progressing from delivering engagement activities in a range of service provisions to today where I am a qualified Senior Specialist Care Tutor.
What's made you continue a career in care?
The thing that has kept me working in the Health and Social Care industry is a strong compulsion to help others. If you are reading this and you already care for someone, then you'll know that priceless feeling as well. And, if you are thinking about a career in Health and Social Care, well, you should feel privileged and excited that you have made the right choice. Working in this industry gives us hope, laughter, gratitude, compassion, confidence, opportunities, friends, empathy, structure, and a strong sense of inner peace.
I have reaped the rewards of caring for others and got back the care that I have given to others. That's what keeps me working in this sector. It's a two-way thing, a unique quality that you don't find anywhere else.
How has training changed over the years?
Training has improved over the years and excellent education is key to offering quality care and it also keeps care professionals protected. Trainers are well equipped to deliver the knowledge compassionately to give you all the skills and knowledge you need to feel confident and competent in any given path you are taking. I can't say that in all these years I ever had a bad experience in training, it's always been positive and developmental. Look where it's got me!
Why do you think it's important for Care Professionals to continue developing their skills?
Apart from developing your skills and knowledge because it is a legal requirement, and safeguarding improves all the time, your continuing professional development will open so many more avenues. You may have a specific area you are interested in, for example nutrition, autism, or dementia, falls prevention, so find the training in that area and aim high!!  Don't be put off by school results if they weren't as good as you would have liked. The sector is ever changing, for the better. I left school with low grades, and the wisdom of my teachers telling me I would amount to nothing! Well, they were wrong because it spurred me on to achieving more than 60 certificates all relating to Health and Social Care in countless subjects. There is absolutely no limit to what you can achieve, and I am evidence of this.
What advice would you give to someone who is considering working in care?
My advice to anyone considering working in this sector, is don't wait! Make the change and see what it gives back to you. The care sector is waiting with open arms for you, to support you, and nurture you, and you will be going home with that special feeling deep inside that you have made a positive difference to someone's life. Few people in life get that feeling, so don't wait. Make that change today!
I look forward to seeing you on one of my training courses ?